Jim is a superstar sales professional, the next he is sullen, distracted and ineffective. What happened? Jim's father is suffering from Alzheimer's and now Jim and his wife have joined the ranks of caregivers.
This MUST change. Unpaid caregiving for aging parents, children, and other family members and friends is staggering with over 53 million Americans impacted.


According to Caregiving in the U.S. 2020, a joint research study between the National Alliance for Caregiving and AARP, caregivers are stressed, and it is impacting their health. Here's an excerpt from the report:
Caregivers report physical, emotional, and financial strain, with 2 in 10 reporting they feel alone (21 percent). When compared to 2015, fewer caregivers report their health status as excellent or very good (41 percent, down from 48 percent in 2015) and a greater proportion report being in fair or poor health (21 percent, up from 17 percent in 2015).
One in 4 find it difficult to take care of their own health (23 percent) and a similar proportion report caregiving has made their own health worse (23 percent). (P. 6. Caregiving in the U.S. 2020)
If you think this is a "personal" issue separate from the workplace, think again. Caregivers your friend, neighbor or colleague.
Baby Boomers and Generation X are carrying a significant amount of the caregiving responsibility while also trying to raise children and work.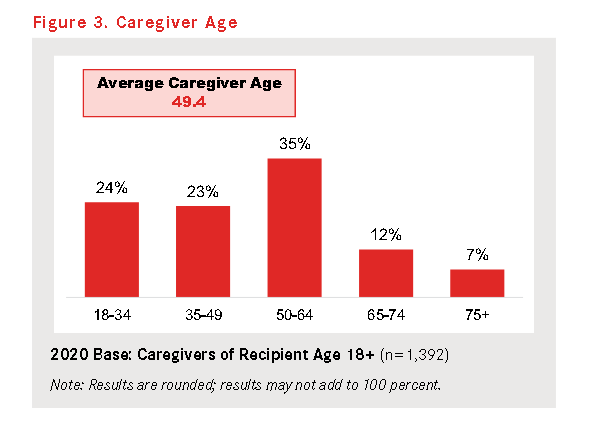 This is a pervasive issue in our society, one that deserves more attention from employers as well as employees.
Here's another sobering excerpt that highlights the gaps in our current approach:
More than 8 out of 10 caregivers (84%) state that they could use more information or help on caregiving topics. Caregivers most commonly want information about keeping their loved one safe at home (42%) and about managing their own stress (42%).
Cultural Implications
"The growth in caring for an adult relative is up markedly among African American caregivers (88 percent compared to 77 percent in 2015) and Hispanic caregivers (92 percent vs. 85 percent in 2015). The youngest caregivers are also more often caring for an adult relative (91 percent) than in 2015 (85 percent).
Additionally, men who provide care more often do so for a relative (92 percent) than women (88 percent).
Asian American caregivers more often report caring for a parent (52 percent) than Whites (43 percent) and African Americans (33 percent).
Long-term caregivers (those providing care for five years or longer) are more often caring for a relative (94 percent) than shorter duration caregivers (87 percent when caring for four years or less)
Notably, long-term caregivers more often report caring for their own adult child (12 percent vs. 4 percent of shorter-term caregivers).
Caregivers with lower household income (less than $50,000) more often report caring for a non-relative (14 percent) than caregivers with higher income (8 percent)."
Seek Help – Give Compassion
If you are in this situation, seek help – tell your employer and colleagues that you are a caregiver. To generalize a bit, men tend to ask for help, most women do not. If you work with a caregiver, provide some emotional support, a moment of grace will help you both.
The Insurance Gap
Insurance today does not cover many of the services that employee caregivers really need, such as:
respite services so that you can take time off from caregiving to rest
transportation to medical or therapy appointments
transportation to adult day health, so that you can rest assured that your loved one is in a quality supervised program while you are at work
Saving Your Employees From Getting Crushed
That's where this situation gets tricky. Most companies have valued employees who feel trapped in a caregiving situation, largely because they cannot take a break. I'd like to suggest that it may be in a company's interest to consider underwriting or cost sharing on services that help such employees.
Great employees like Jim don't suddenly become bad employees; they just become caregivers who need help.
It's time we had more conversations about this because it's not going away. If you haven't experienced caregiving personally, the odds are pretty good that you someday will.
LIFE COORDINATED® Changing health care to help care.
LIFE COORDINATED® is here and now employers can provide access to caregiving support and in-home care for employees as a medical or supplemental benefit under your EAP.
Find out more [email protected].
About the Author: Nancy C Everitt, MBA, PMP, CAPS
Nancy C Everitt, MBA, PMP, CAPS is the Founder and CEO and HEOPS Inc and CENTIPEDE Care Solutions LLC. She is an industry expert on aging in place, managed care, value-based care, and health technology. N. Everitt is a TN Supreme Court trained Rule 31 Mediator, a certified Project Management Professional and has also received a Certified Aging in Place Specialist (CAPS) designation from the National Association of Home Builders.
Nancy's passion is helping to refine the ecosystem supporting the intersection of life, health, and assistance (help) so that people can live their best life at home surrounded by family and friends.